Emergency Management
Before the Flood
After the Flood
Debris Cleanup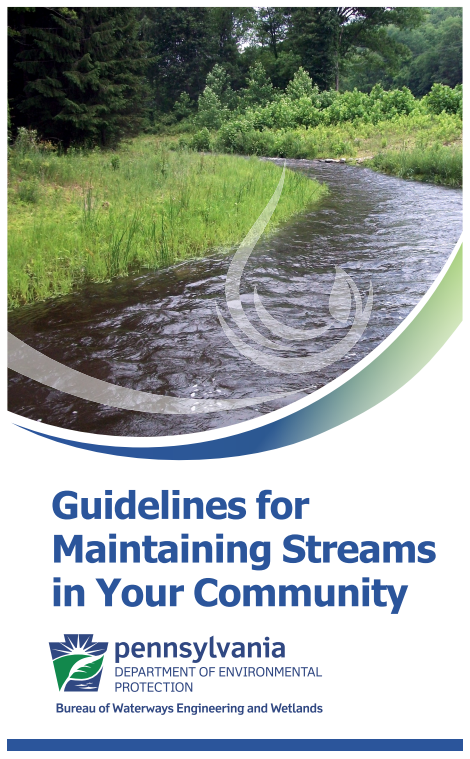 During flood events, the movement and accumulation of woody debris, trash, and stream substrates such as sand, gravel, and other materials is common. Understanding when to remove debris is important because not all debris are harmful.
Woody debris that poses little risk to infrastructure are best left in place, thereby saving time and money for more critical work at other locations. Hanging trees, natural material wedged into banks, and stabilized woody debris within a stream should be left alone because they can provide habitat for fish and aquatic organisms.
During flood events, debris accumulation can impact water flow by blocking bridge and culvert openings, diverting streams, and causing erosion of banks. When debris poses a risk to infrastructure such as roads, bridges, or homes, it should be removed. Follow guidelines in the DEP Stream Maintenance Booklet.
Notify PA DEP about your project. If a permit is needed, they will provide assistance to ensure that you apply for the appropriate type of permit for your project.
Financial Assistance
After a flooding disaster, the chain of command for seeking assistance is as such:
Local government/state declares state of emergency
Governor requests federal assistance
President declares designated counties for federal assistance
Individuals and local governments apply to FEMA for assistance
You do not need to have a flood insurance policy to receive this disaster aid. Flood insurance will provide larger payouts to help with repairs, though. More information can be found from PEMA  and DisasterAssitance.gov. See our information on grants for disaster mitigation and relief. Silver Jackets also has information on how various federal and state organizations can use their resources together for mitigation and post-disaster assistance.
County Hazard Mitigation Plans
Hazard mitigation plans (HMPs) are developed by each county and are adopted by each community. The plans lay out how to mitigate and respond to identified hazards in the county. HMPs are needed to receive certain types of non-emergency federal hazard assistance. These plans should be updated every 5 years and submitted to FEMA for approval.
Contacts
Organization
Contact
Title
Information
More Info
FEMA Region III
Katie Lipiecki
Risk Analysis Branch Chief
(215) 931-5500
Kathryn.lipiecki@fema.dhs.gov
PEMA
Thomas Hughes
PEMA State Hazard Mitigation Officer
(717) 651-2726
thughes@pa.gov
PEMA
Bill Bradfield
NFIP Program Manager
(717) 651-2141
wbradfield@pa.gov
PEMA Western Area Office
Darlene E. Bracken
Emergency Management Specialist
(724) 357-0106
Find Your County EMA
DCED | Center of Local Government Services
Marita Kelley
Deputy Director
(717) 720-7301
PA Department of Health
(877) PA-HEALTH
Southwest District, Greensburg, PA:
(724) 830-2701
DEP Southwest Regional Offices
James Miller
Regional Director
(814) 332-6945
DEP Local District Offices
Voluntary Organizations Active in Disaster (VOAD)
National VOAD
(703) 778-5088
Voluntary Organizations Active in Disaster (VOAD)
Ed Robertson
Pennsylvania VOAD
erobertsons@diocesecpa.org
County VOADs
Voluntary Organizations Active in Disaster (VOAD)
Calvin Cook
Western Region PA VOAD | Western Region Chair
calvinjcook1@yahoo.com