Integrated Water Resource Planning
Integrated water resource planning (IWRP) is a flexible and holistic type of planning that involves professionals from various water sectors working together for a coordinated and cooperative approach to manage the interconnectedness of water and identify possible solutions. Planning across political boundaries at the watershed or regional level may seem challenging; however some common beneficial outcomes to integrated planning, as identified by the One Water process, can be:

Identification of innovative approaches
Identification of uniting concerns to motivate change
Compliance with federal and state regulations
Sustainable communities and future development through mitigation and adaptation strategies
Improved health of local waterways
Identification of multi-beneficial outcomes
Identification of new partnerships and/or funding opportunities
Increased coordination among agencies and departments
Optimize use of existing financial resources
Opportunities to optimize regional infrastructure
Support and provide economic growth opportunities
The US Environmental Protection Agency (EPA) supports efforts towards integrated water resource planning in their 2012 Integrated Municipal Stormwater and Wastewater Planning Approach Framework. The Clean Water Act (CWA) was amended on January 14, 2019 with the Water Infrastructure and Improvement Act (WIIA) to better support integrated plans that meet several federal water-related regulations.
One Water
Planning efforts can be designed to focus on a few topics of concern within a watershed (or other management unit) or can look at the whole system as "One Water". One Water is defined by the Water Research Foundation as "an integrated approach to managing finite water resources for long-term resilience and reliability, meeting both community and ecosystem needs." The Blueprint for One Water is a step-by-step framework provided by the Water Research Foundation that guides the One Water integrated planning process.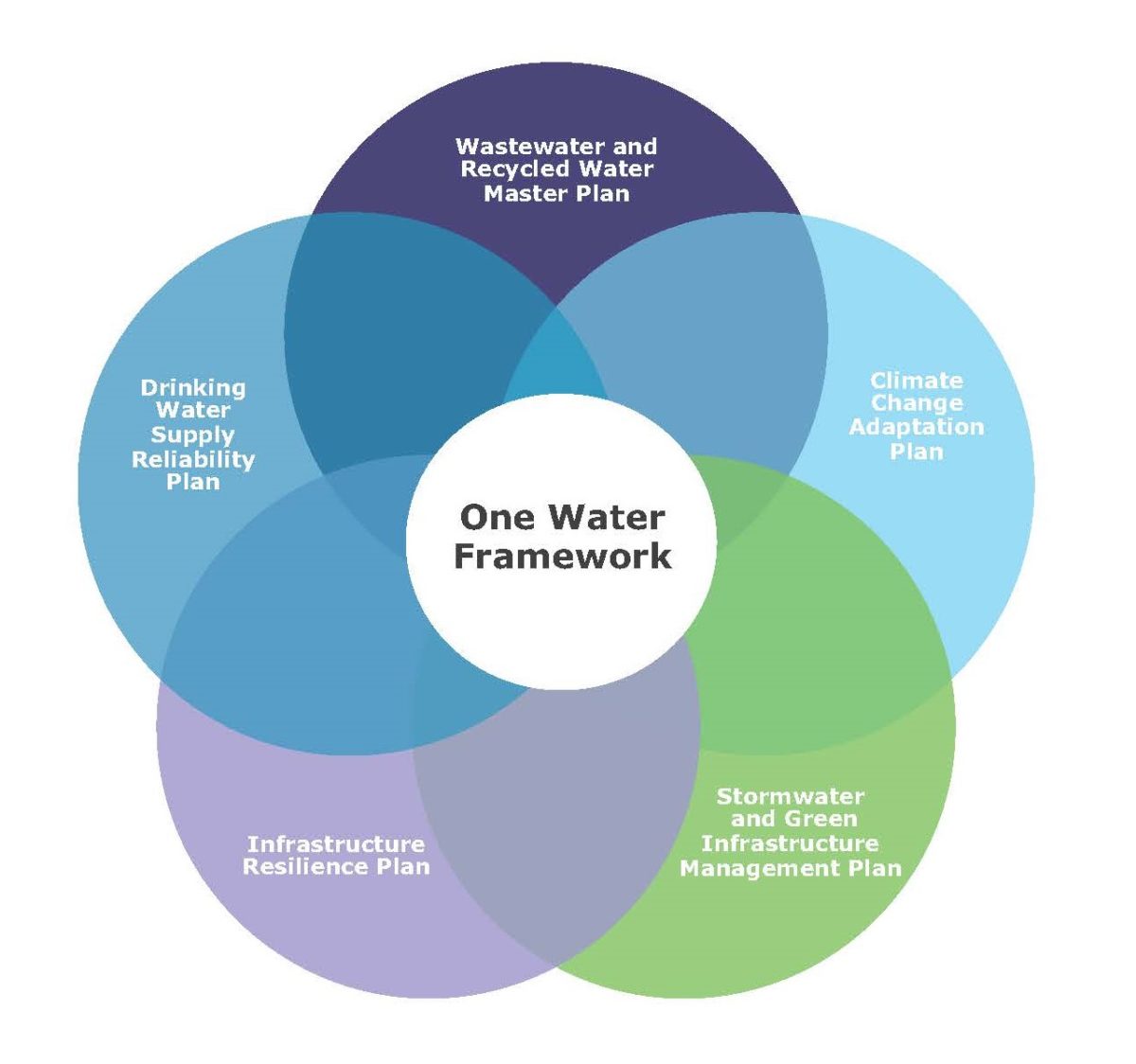 The County Planning Directors Association of Pennsylvania (CPDAP) released a position statement in support of the One Water approach.
The Southwestern Pennsylvania Commission's (SPC) 2019 long range plan, "SmartMoves for a Changing Region" identifies a clean water strategy for the region by promoting and supporting "sustainable regional water resource management and planning for water topics such as stormwater, flooding, water quantity, water quality, and infrastructure systems."
Existing Water Planning Efforts
Integrated water planning should focus on incorporating data and information from previously completed reports or planning efforts. To assist communities and entities within the SPC region with regional water planning, the Water Resource Center has created an interactive map of water-related plans and reports for the region. Select a point on the map to find plans/reports for that area or search by county/municipality. These plans are also located on our Planning Documents page in list form by county. This mapping tool is still under development. It currently is a compilation of plans and reports that were easy to access online and is not all-inclusive. We continue to work with partners to identify and include additional plans. If you know of a plan that is not in listed, please contact the Water Resource Center at wrc@spcregion.org.